2018 BMW 230i Review

You love to press the pedal to the metal along the open highway. So, when traffic finally clears up after rush hour, do what comes naturally to you and surge forward like a true champion.
If you want to truly dominate every mile of the roads near Atlantic City, Egg Harbor, and Vineland, it's essential to choose the right vehicle. Luckily, your cravings for outstanding power and innovative technology will be met with the 2018 BMW 230i.
Let's learn more about how far this athletic sedan will take you by diving into this 2018 BMW 230i Review created by BMW of Atlantic City. Before long, you'll be traversing your path at the helm of this compelling road cruiser.
BMW 230i: A Performance Professional
Just because this automobile dons a small frame, doesn't mean that it can't churn out some serious strength. In fact, the 2018 BMW 230i goes well beyond where most compact sedans settle with its 2.0L turbo motor.
While soaring down the highway, this tiny titan turns heads with 248 horsepower and 258 lb-ft of torque. Thanks to those numbers, you'll never experience a moment of lag when zooming along the twists and turns of the road.
On top of that, all that power teams up with an 8-speed Sport Automatic transmission with automatic Sport and Manual Shift Modes.
This intuitive system keeps you moving like a speed demon by providing you with the perfect dose of muscle when you need it most. And with the Sport and Manual shift modes, you can quickly adapt your vehicle's performance to feel like that of a legendary racecar.
2018 BMW 230i: Innovative Technology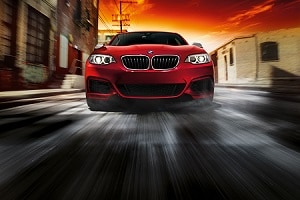 The roar of a forceful engine should always be paired with some of your favorite tunes. Inside the sleek cabin of the 2018 BMW 230i, you'll choose your entertainment by utilizing the user-friendly and standard 6.5-inch iDrive touchscreen.
This setup keeps you feeling relaxed and confident with an array of intelligent gadgets, such as:
HD Radio™
Pre-wiring for SiriusXM®
Bluetooth® and more
Need some guidance to your next destination? If so, opt for the 8.8-inch navigation touchscreen, which keeps you on the correct path with turn-by-turn directions. That way, you won't risk getting lost and arriving late to an important event.
In addition, an available Wireless Charging Port and an optional Wi-Fi hotspot help you restore the life of your smartphone and connect you to the Internet, even in the most remote locations. With these devices, you'll never be without a connection to your contacts, email, messages, and more.
Comfort Beyond the Standard
To keep you feeling refreshed during long road trips, the 2018 BMW 230i comes adorned with standard 10-way power-adjustable front sport seats with 2-way power side bolsters. By arming the interior of your sedan with these features, your body will always be cradled with top-notch support and cushion.
The BMW 230i stays true to its habit of create a classy oasis by decking out the cabin with High-Gloss Black Trim and Pearl Chrome accents. That way, you'll always know that you're seated in the throne of a celebrated automobile.
Learn more about the 2 Series with our 2018 BMW 2 Series Review!
Test Drive Your 2018 BMW 230i Today!
At BMW of Atlantic City, we know what it takes for you to revel in every minute of your rides through Atlantic City, Egg Harbor, and Vineland. By opting for the 2018 BMW 230i as your next companion, you'll arrive at your destinations in style.
Don't wait around to learn more about what this sporty sedan can do for you. Stop by our showroom or schedule your test drive today!