2018 BMW 328d Review

Regardless of whether you live in Atlantic City, Egg Harbor, or Vineland, the 2018 BMW 328d is perhaps the most luxurious 3 Series sedan you could drive. It's packed full of outstanding technology features, boasts a powerful engine, and has all of the luxury appointments you'd expect from a vehicle from this automaker. Check out this complete breakdown of the comfort, features, technology, performance and options you'll get from the new 2018 BMW 328d, and see where you can go for a test drive.
BMW 328d: Interior & Exterior Style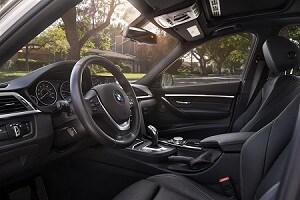 The BMW 3 Series sedan features an exterior style that is both iconic and distinctive. It all starts with the signature dual-pane kidney-shaped grille. The aggressively-contoured shape of the sport hood gives it an instantly-recognizable profile.
BMW is also renowned for its array of beautiful, eye-catching color schemes. From Alpine White and Mineral White to Black Sapphire and Jet Black, even the basics will astound. Or, if you want to really kick things up a notch, you can go with either Sunset Orange Metallic or Melbourne Red.
BMW 328d Engine Specs & Performance
Speaking of kicking things up a notch (or 10), let's take a look at engine power in the 2018 328d. Right off the bat, you'll notice one number that stands out: 320. As in 320 horsepower – the amount of kick that you'll have under your foot. But this sporty car isn't all power, as it's got as much grace as muscle.
Between near-perfect 50/50 weight distribution, advanced steering technological, and handling-focused suspension, the 2018 BMW 328d gives you all the tools that you need for the smoothest ride out there.
BMW 328d Entertainment & Technology
Last, but certainly not least, we'll cover a few of the sumptuous amenities that you'll enjoy in the cabin.
Full Color Head-Up Display. Now, you can get all the road and system information you need…without ever taking your eyes off the road or your hands off the wheel. Now that's 21st-century driving, people.
BMW iPerformance Technology. The engineers over at BMW are investing lots of effort into efficiency technologies. So, on the 3 Series models, going the extra mile doesn't have to mean breaking the bank.
The King's Cabin. Sleek interior finishes. Smooth-touch leather upholsteries. Customization options. What more could you want from the cabin of one of the most luxurious automobiles on the market?
Test Drive the 2018 BMW 328d
If any of this appeals to you (or, more likely, if all of this appeals to you), then we encourage you to get in touch with us as soon as possible. Just call us, reach out to us online, or stop by our dealership today.
Our BMW of Atlantic City team is here to help our Vineland, Egg Harbor, and AC drivers. We mean you!