2018 BMW 440i Review
If the next step in your car-driving journey is a foray into the small luxury car segment, our team at BMW of Atlantic City is here to help you. In our 2018 BMW 440i review, we take shoppers near Egg Harbor and Vineland through some of the key design, performance and interior specs of this compelling car.
If you're thinking about making the 2018 BMW 440i your next ride, read on below to learn more!
2018 440i Gran Coupe: Design & Body Style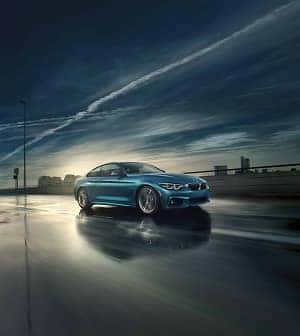 The 2018 440i has both (two-door) coupe and (five-door) gran coupe body styles. Both sporty shapely, sloping rooflines, though the 440i Gran Coupe's comes at a gentler angle than the 440i Coupe's. You'll get frameless doors, which highlight the fluid roofline for a modern, minimalist look.
If you like to feel the wind in your hair as you drive, there's also a 440i Convertible available, with a power-retractable top. All three 440i body styles are designed to sit low to the ground, crouching in an aggressive stance for a stylish, speedy look-and one well-matched by the 440i's performance.
An Action-Packed Performance
The 2018 440i certainly delivers plenty of power for such a small car. With its turbocharged 3.0L I-6 engine, you'll get up to 320 horsepower and 330 pound-feet of torque on tap, for smooth, speedy acceleration whenever you need it. Indeed, the 440i Coupe can go 0-60 in as little as 4.6 seconds!
The 440i's low ground clearance (just 5.1 inches) lends it a low center of gravity, which combines with a long roofline and rear-wheel drive to deliver remarkably sporty handling. According to U.S. News & World Report, test drivers have found steering sharp and responsive, especially on winding roads.
Plenty of People & Cargo Space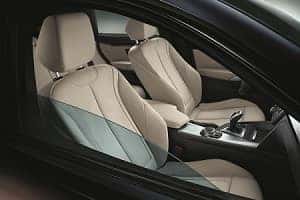 This luxury small car really optimizes every inch of space for a comfortable and utile vehicle. In the BMW 440i Gran Coupe's hatch-style trunk, you'll enjoy maximum headroom benefits in the backseat, with more than 37 inches. In the front seat, more than 42 inches of legroom and nearly 40 inches of headroom give you plenty of room to stretch out.
And you can't argue with all that trunk space, either. You'll get roughly 17 cubic feet with the rear seats up, which is plenty to hold your groceries, golf bags or luggage. If you have larger items like a bike or small pieces of furniture, you can fold down the (split-folding) rear seats for a max storage capacity of nearly 46 cubic feet.
Learn more about the BMW 4 Series here with our review!
Test Drive the 2018 BMW 440i
If you live or drive near Egg Harbor and Vineland, we hope you find this 2018 BMW 440i review helpful as you shop for your next new small luxury car. If you have any questions, our team at BMW of Atlantic City is happy to help answer them.
Schedule a test drive of the 2018 BMW 4-Series 440i at our dealer, so you can get that all-important hands-on experience before you make a final decision. Test drive every body style to find the right one for you!