2018 BMW 6 Series
Welcome to the 2018 BMW 6 Series, the luxury model that will have you volunteering to drive to your next night out in Atlantic City. If you're looking for the car that will redefine class and luxury, you've come to the right place.
Our team at BMW of Atlantic City has put together this review of the BMW 6 Series so that you can get all the details on this incredible ride. Whether you're headed to Vineland to visit family, or maybe making your way to the beach in Egg Harbor Township, you won't want to stop driving when you're in the 6 Series.
2018 BMW 6 Series: The Models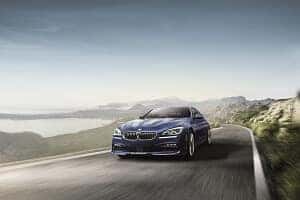 The first thing that comes to mind when describing the 2018 6 Series is options. You can choose  from three awesome options when it comes to choosing the model that's right for you.
The 6 Series Gran Coupe. As BMW's first four-door coupe, this ride will give drivers and passengers the best of both worlds with an athletic drive (going from 0-60 in just 4.3 seconds) plus plenty of backseat space.
The 6 Series Convertible. Drop the top in just 19 seconds in this sweet sportster, where you'll be cruising in both power and style.
The Alpina B6 Gran Coupe. Unlike anything in its class, this coupe has an acceleration rate of 0-60 in just 3.6 seconds, while putting out 600 horsepower.
As you can see, if you're into power plus agility, not to mention style and luxury, the 6 Series has a model to choose from for every preference.
Optimum Engine Options
With the BMW 6 Series, you'll also get three different engine options to choose from. Such options include:
640i: With a 3.0L I-6 engine, you'll get 315 horsepower and 330 lb-ft of torque out of this awesome option.
650i: This standard twin-turbocharged 4.4L V8 engine achieves 445 horsepower and 480 lb-ft of torque.
M6: This powerhouse has a twin-turbocharged 4.4L V8 that produces 560 horsepower and 500 lb-ft of torque.
With such great options, you'll still get impressive fuel economy. The 6 Series has an EPA-estimated 21 city/30 highway MPG, so you'll be powered from one destination to the next, without making pit stops.
Innovative Technology Features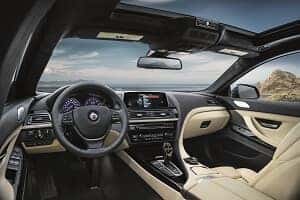 When you opt for a luxury vehicle, you should expect the latest technology features in terms of both  entertainment and safety. Of course, the 2018 BMW 6 Series doesn't fail in this department, either.
The 2018 6 Series comes standard with BMW's iDrive 5.0 infotainment system, with a 10.2-inch touchscreen display. Enjoy other features such as navigation, 3D maps, and available Apple CarPlay™.
Essentially, the most important features are the ones that keep you safe. With the 2018 6 Series' standard Active Protection System, your vehicle will detect a potential collision, and take the necessary precautions to prepare your vehicle for it, like tightening your seatbelts and braking system.
Test Drive the 2018 BMW 6 Series Today!
If you like what you're reading here about the 2018 BMW 6 Series, schedule a test drive at BMW of Atlantic City today! We proudly serve the areas of Atlantic City, Vineland, and Egg Harbor Township, and would be happy to get you moving in your favorite model of the 6 Series.