*European Models Shown

A series that's lasted decades thanks to its amazingly dynamic performance and thrilling driving experience, the 2018 BMW M Series is surely equipped to give you the ride of your life – even if you're just going to the grocery store.
For drivers in Atlantic City, Egg Harbor Township, and Vineland, our team at BMW of Atlantic City wanted to give you the rundown on everything M Series. In this review, we'll discuss what separates the M Series from the rest and how you can get in yours quicker than you can say 0-60.
2020 BMW M8 Review
2019 BMW M850i Preview
2018 BMW M240i Review
The M Stands Alone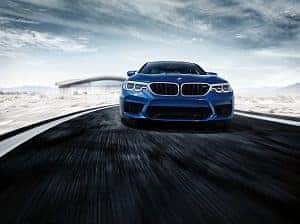 The BMW M Series has been giving drivers the ride of their lives for over four decades, and the 2018 models are no different. With incredible advanced engine features, the M Series is in a class all its own.
The M Performance Difference
The 2018 BMW M Model engines consist of lightweight materials made to reduce weight to achieve a more athletic, agile drive. Plus, the twin-turbo technology provides for a lighter body while still putting out more than 100 horsepower per liter.
Racecar for the Street
When you drive any of the M Series models, you're not just driving a standard car – you're cruising in a racecar made for the street.
Additionally, you can measure your performance in the M Series with apps like the BMW M Laptimer app with GoPro integration. So you can consistently improve your lap times and take advantage of your legal street racer.
2018 BMW M Series: The Models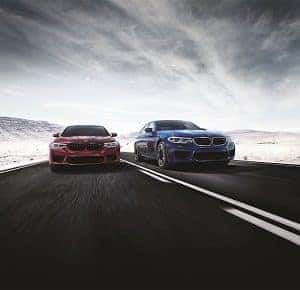 The BMW M Series consists of eight models, each just as dynamic as the next and geared to what you're looking for in your next car or SUV.
BMW M2 Coupe: The BMW M2 is the perfect choice for your next sports cruiser. Combining both the athletic feel and exterior look, the M2 is the ideal combination of style, power, and performance.
BMW M3: Don't mistake this powerhouse sedan for your regular old compact sedan. This sleek, powered ride not only looks good but also goes from 0-60 in an impressive 3.9 seconds.
BMW M4: If you really want to get those lap times down while keeping your top off (the car, of course) opt for the BMW M4. Available as either a coupe or convertible, you'll be racing around the track in 7:52 flat.
BMW M6: This model in the M Series is also available as a convertible or you can go for the Gran Coupe trim. Achieving 560 horsepower and 500 lb-ft of torque, this powerhouse still gives way to its athletic reputation with its agile performance.
BMW X5 M: When you're looking for your next SUV, why not go for one that's as powerful as it is sporty yet sophisticated? Get ready to be the envy of the other family SUVs at next week's soccer game with the X5 M.
BMW X6 M: The last in the series, but certainly not to be overlooked, this Sports Activity Coupe® combines the best of both worlds without losing speed, agility, or power.
Pick Your BMW M Series Model Today!
If you're all about what the 2018 BMW M Series has to offer, stop by BMW of Atlantic City today to test drive your favorite models! We proudly serve the areas of Atlantic City, Egg Harbor Township, and Vineland and look forward to helping you find the perfect BMW!