Welcome to the BMW of Atlantic City Tire Center! Our technicians serve drivers in Atlantic City, Egg Harbor, and Vineland. Whether you've hit a pothole and have a flat tire or you're due for a brand-new set of tires, our service professionals know BMW models inside and out.
If you're searching for a "tire repair near me", then count on our technicians for complete tire service and drive safely knowing your vehicle has a set of BMW-recommended tires.
Why Buy from a BMW Tire Center?
Whether you're zipping along the highway in your 5 Series, taking on country roads in the X5, or navigating city streets in the 3 Series, it's important to have the right tires suited for your car. Careful thought goes into selecting the tires for your specific BMW model when it hits the assembly line, so it's important to have the right ones when it comes time to replace them.
Tires will be chosen to provide the best possible driving experience for you. When choosing our BMW tire center, you can rest easy knowing that the tires you want will be in stock and can be installed while you wait.
Tire Service and Repair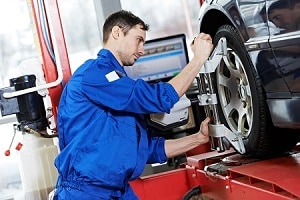 Our tire center offers convenient service and repair for your BMW. Our factory-trained BMW technicians are prepared and ready to assist you with your tire needs. Here are some of the tire services you should know about.
Tire rotations: A rotation keeps tires in good shape. Each wheel of the car functions on its own, so each tire will naturally experience different wear and tear as time goes on. To ensure even wear of all four tires, we'll rotate them.
Wheel alignments: Your car travels over many surfaces as you drive. Due to the nature of the roadways and driving on different surfaces, wheels can become misaligned. If you feel your car pulling to one side or the other while driving or the tire treads seem to be uneven, we'll perform an alignment.
Tire pressure checks: Properly inflated tires mean better fuel economy and a smoother ride. If you suspect that a nail or debris may be causing air to leak out of the tire or the vehicle just needs a quick fill-up, our technicians will take care of this service for you.
Finding a Tire Repair near Me
If new tires are what you desire or your BMW needs tire repair, contact the team at BMW of Atlantic City. We've served drivers in Atlantic City, Egg Harbor, and Vineland and look forward to serving you next!
Turn to the BMW-trained technicians for every tire need! We'll keep your car running smoothly.