Download This Handy Trade-in Checklist Today
Receive a money-saving offer when you download!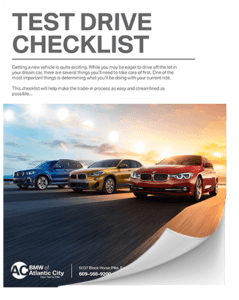 Before you can drive home to Atlantic City, Egg Harbor, or Vineland in a new ride, you'll need to determine what to do with your current one. The most straightforward method is to trade it in, which can be done at BMW of Atlantic City.
If you're going to trade in a vehicle, it's important to know what to do before and during the event, which is why we created this useful Trade-in Checklist.
Here, you'll learn what needs to be done, including:
Using a trade-in calculator to determine vehicle worth
Making sure your car gets a thorough clean, inside and out
Having all the appropriate documents the day of the trade-in
Not only will you have this information at your fingertips, but you'll also receive a money-saving offer that you can use at our BMW dealership.
If you're thinking about exchanging one automobile for another, don't wait. Download your FREE copy of our Trade-in Checklist today by filling out the form below!