---
Brakes are one of the most important parts of a vehicle, bringing you to a safe stop when driving around Atlantic City, Egg Harbor, and Vineland, NJ. Although brakes are usually quiet when they do their job, you may hear a slight squeaking noise when applying them.
Before making any assumptions, read through our guide to determine the cause of squeaking brakes. The most common causes are:
Thin film of rust on the brake rotors—Caused by rain or moisture in the air, the squeaking should stop after driving for a short amount of time.
Driving conditions—Dust or sand in the air can cause squeaking sounds.
Worn brake pads—If the noise resembles ripping sheet metal, it may be time for a brake pad replacement.
Contact our service team at BMW of Atlantic City if you have any questions.
---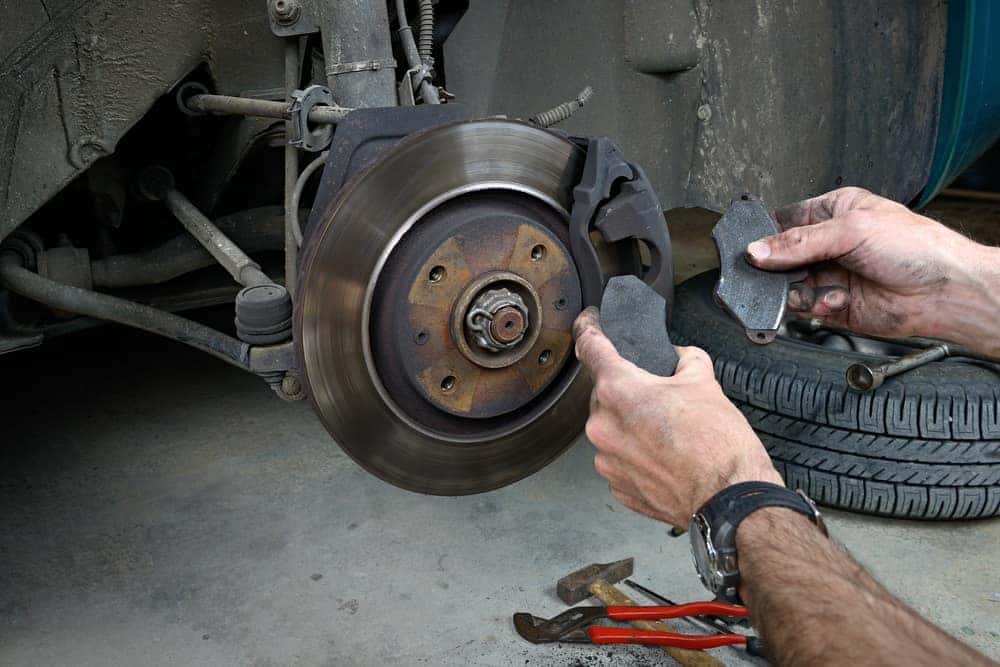 Examples of Squeaking Brake Noises
There are times when brake noise is normal. For example, you'll often hear a slight squeaking noise when pressing down on the brake pedal first thing in the morning, especially if it rained the night before. As the brake pads sweep away a thin film of rust that formed on the brake discs overnight, it may cause a high-pitched squeal.
If you're taking your high-performance BMW to the racetrack, you may hear squeaking brakes. The material used for performance brake pads creates greater friction, resulting in a squeaking noise.
While some brake noise is normal, there are times when it could be a cause for concern. If you hear a noise that resembles ripping sheet metal, it means that the brake pads are starting to get thin. When the brake pads wear down, it becomes harder to bring your vehicle to a safe stop. If you hear this noise, be sure to get your vehicle checked out as soon as possible.
---
Other Common Sounds
Squeaking is not the only sound that you'll hear from your brakes, so you'll want to keep your ears open for other strange noises. If you think your brakes are trying to tell you something, schedule an appointment at our service center and we can help interpret the sounds.
One sound you may hear is a low growling or grinding noise. When this happens, it's important to schedule a brake repair as soon as possible. These sounds mean that your brake pads have completely worn down and the calipers are rubbing against the rotors. Our team may recommend replacing or turning your brake rotors along with replacing the brake pads.
You may also hear a rattling noise when you let your foot off the brake pedal, as if someone is shaking a can of spray paint. This is normal when heat causes your brake pads to expand. However, most BMW brakes come with anti-rattle clips to keep you from hearing this sound.
If your vehicle has rear drum brakes, you may hear a loud thumping noise when hitting the brakes. In drum brakes, the brake pads ride a groove in the drum, but if it's interrupted, you'll hear a loud thump. When you stop by for a brake repair, we may recommend resurfacing the drums or replacing them altogether.
---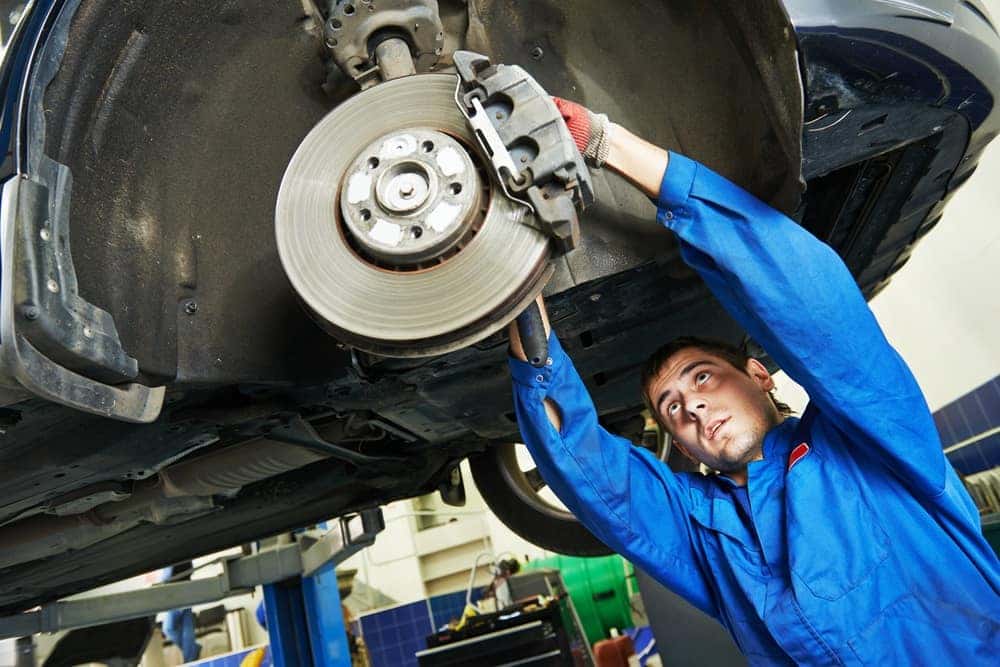 How Do BMW Brakes Work?
Learning more about the braking system in your BMW will not only give you a better understanding of any strange noises you hear, but it'll also help you be better prepared for a potential brake repair.
When you press down on the brake pedal, the force of your foot alone is not enough to bring your BMW to a halt, so it's multiplied with the hydraulic pressure of brake fluid.
The fluid moves into the calipers, which in turn pushes the brake pads against the spinning rotors. This process generates a massive amount of friction to slow the rotation of the wheels.
Now, you may be wondering what brake pads are made of. There are three different varieties: organic, ceramic, and metallic. Organic and ceramic brake pads are both common, but the most widely used in today's market are metallic. Made from a mixture of iron, copper, and steel, metallic brakes tend to last longer than the other varieties.
---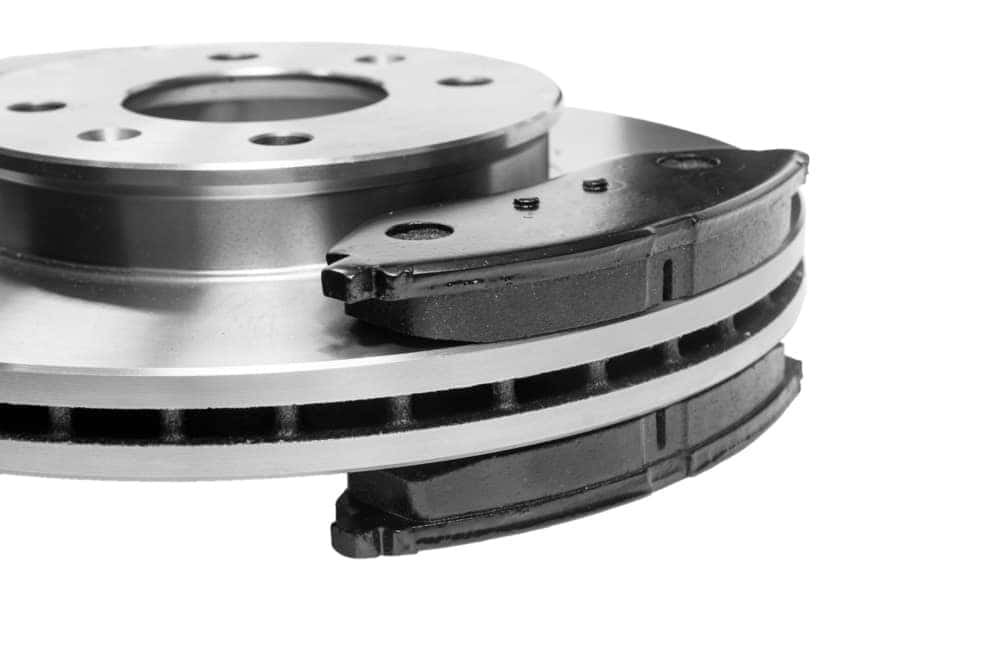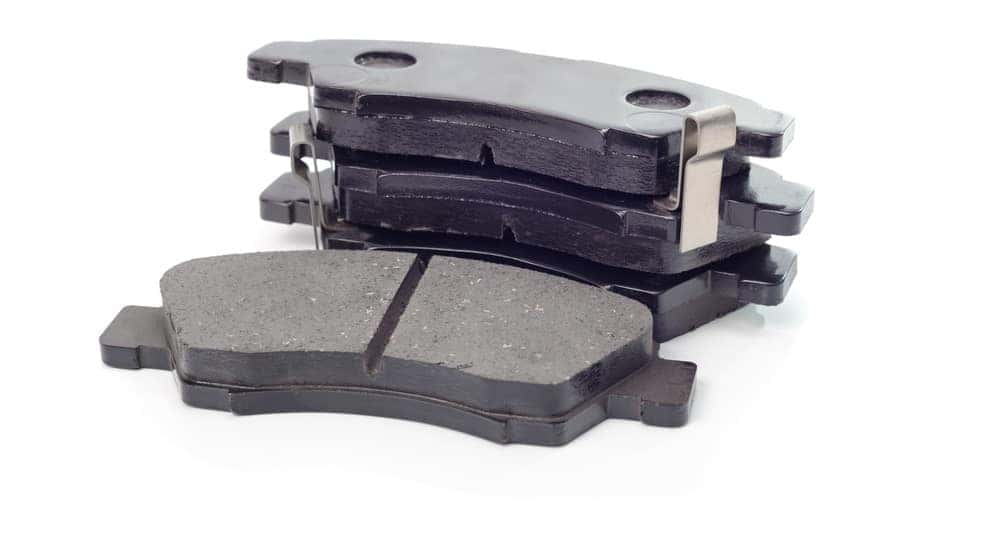 Fixing Squeaky Brakes
There are several ways that squeaking brakes can be fixed. First, lotion or cream can be applied to the back of the brake pads. Sandpaper can also be used to sand off surface hardening on the brake pads.
You may also want to consider replacing your current pads with those of a different material. If you currently use organic brake pads, switching to metallic or ceramic can be a better option.
Whatever course of action is best for your brakes, it should be done by a professional. Our certified technicians have years of experience fixing brakes on vehicles just like yours.
Before the squeaking brakes become a bigger issue, bring your car to our BMW service center for a checkup. Our technicians will determine if the noise is normal or the beginnings of something more serious.
If the brakes need a simple repair, our team will do it quickly and efficiently. If anything has to get replaced, we will only use genuine BMW components from our parts center. They are the same ones used when the vehicle was first built, so they'll provide the perfect fit and a long-lasting fix.
Check out our current list of service specials to get better prepared for a trip to our service center. Our specials will help add more value to your maintenance and may help streamline the process further.
---
Schedule Brake Service
If your brakes are squeaking when driving around Atlantic City, Egg Harbor, or Vineland, New Jersey, then schedule service at BMW of Atlantic City. Let us know what day and time works for you, and we'll confirm an appointment in no time.
Schedule brake service with us!
---