2019 BMW i8 Review
While there are lots of hybrid models available to buy or lease, you may be interested in something a little different. One vehicle that kicks things up a notch is the 2019 BMW i8. With a brilliant design and impressive power, this vehicle could give your drives around Atlantic City, Egg Harbor, and Vineland a major lift.
In this detailed review, we'll go over what features are available in this luxury automobile. Then, after reading, you can contact BMW of Atlantic City to get an up-close look at this luxury model.
Head-Turning Exterior Design
Whether you opt for the 2-door Coupe or Roadster, you'll get a luxury automobile that's high in style.
The 2019 BMW i8 has several design elements that are sure to evoke an emotional response, such as:
Precise lines
Sweeping silhouettes
Scissor doors
Overall, the vehicle has a streamflow design, appearing like it's rushing forward even when standing still.
However, the i8 has an athletic appearance, as well. This is especially true when you factor in the 20-inch BMW i Jet Black wheels and exclusive E-Copper Metallic exterior finish with Frozen Gray highlights.
An Interior That's Designed to Impress
However, the noteworthy design doesn't stop at the exterior. In fact, the interior has crisp, clean lines along with several eye-catching upholstery options.
Inside the 2019 i8, fine leather seating comes standard in color options, such as Ivory White or Black. Plus, there's the available E-Copper Leather Exclusive with Cloth accentuator that gives a sporty yet refined look and feel to the interior.
Furthermore, there are many amenities that can help keep you comfortable throughout your travels.
One of them is heated front seats, which can leave you feeling cozy on especially cold nights. You also get an automatic 2-zone climate control system as a standard feature, which lets you and your co-pilot adjust the cabin temperature to get it the way you both like.
2019 i8 Performance Specs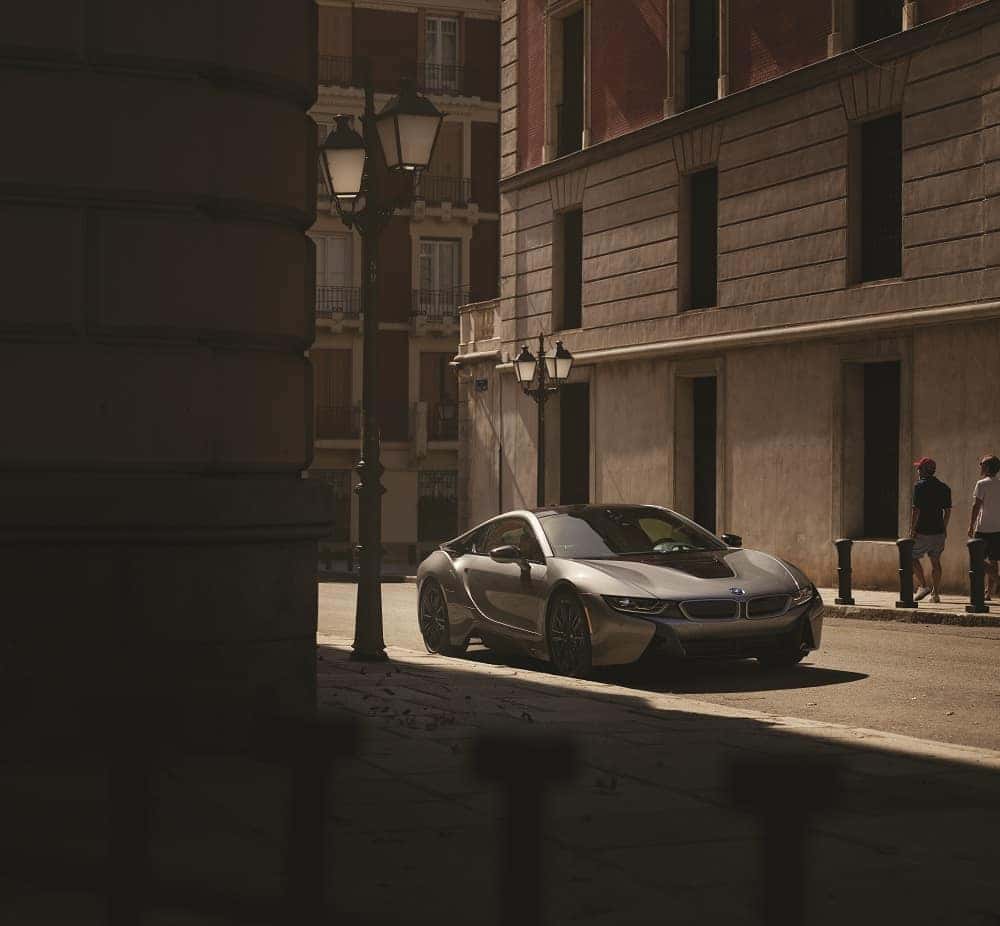 When it comes down to it, you want a vehicle that's fun to drive. The BMW i8 doesn't hold back with its performance, giving you the power of a sports car with the efficiency of an electric automobile.
The vehicle comes with a 1.5L TwinPower 3-cylinder engine and AC Synchronous Electric Motor. Together, they deliver 369 horsepower and 420 lb-ft of torque—for all the brawn you need to zoom down the open road.
As a hybrid model, the i8 allows you to drive around on battery power alone. Plus, you can fully charge the vehicle at home or at a nearby public charging station in as little as three hours. Set the car to charge overnight and quickly be on your way in the morning.
Furthermore, there are several driving modes to choose from to suit your mood, including SPORT and ECO PRO. SPORT mode will give you an extra boost from the combustion engine and electric motor. Then, ECO PRO will support a more efficient, optimized driving style for longer drives around town.
Test Drive the 2019 BMW i8
Between the style, features, and performance, the 2019 BMW i8 is a viable option for trips around Atlantic City, Egg Harbor, and Vineland. To know for sure, though, you'll want to take this vehicle for a spin.
Schedule a test drive at BMW of Atlantic City, and we'll have you zipping around in this luxury hybrid model before you know it!