Community Spotlight: Little Water Distillery

William Faulkner said it best: "Civilization begins with distillation." Little Water Distillery sits in the heart of prohibition-unfriendly Atlantic City and continues in that long, rebellious tradition. This craft distillery produces spirits of such high quality, and we are shining a spotlight on them this month.
Thirsty souls in the Garden State and beyond have long chosen Little Water for their spirits. Want to see what founders Mark and Eric Ganter have created here? We'll distill all the details for you below!
See the Spirits on Instagram  | Follow them on Facebook
Distiller of Your Favorite Spirits
Little Water Distillery's spirits are inspired by—and rooted in—America's story. If the rewards of rugged individualism can be bottled, this distillery does it best with offerings that include: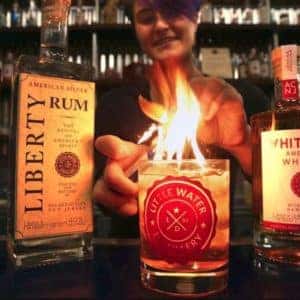 Whitecap Whiskey. From the snow-covered mountains of Appalachia to the white-capped shores of Atlantic City, this spirit makes a unique journey to bring its southern whiskey pedigree to market.
Liberty Rum. This early-American inspired rum offers a dry taste that comes alive with notes of vanilla, sugar cookie, citrus, and spice. Liven up your favorite cocktail with a smooth, clean, and flavorful finish.
48 Blocks Vodka. A velvety smooth and creamy wheat concoction, 48 Blocks owns its title as Atlantic City's Vodka. It's blended and bottled with the region's prized water from the Kirkwood-Cohansey aquifer.
Prosperity Rum. Here's an American Dark Rum perfect for your favorite rum cocktail. Aged in new American white oak barrels, it has subtle aromas of brown sugar and vanilla with a pleasant oak finish.
Rusted Revolver Gin. A rusted revolver was found on the grounds of this distillery during construction. Now, it's the namesake for their gin, which combines a careful selection of exotic and indigenous botanicals.
Tours & Tastings at the Distillery Bar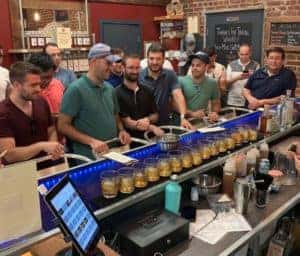 Every season, the Little Water Distillery Bar rolls out new signature cocktails. Stop by for a tour and taste their latest liquid libations! There's no need to book your tour—just stop by during distillery hours Th/FR 5:00-9:00 pm, Sa 1:00-8:00 pm, and Su 1:00-6:00 pm.
Tours delve into the inner workings of this Atlantic City distillery and begin at :45 after the hour. The last tours of the day start an hour and 45 minutes before closing. Remember to save time for a craft cocktail before you leave.
Little Water Distillery's spirits are sold and poured at many fine establishments across Atlantic City and the state of New Jersey. See where you'll find your favorites on their website and plan your visit today!