2019 BMW 8 Series vs Mercedes-Benz S-Class

There are lots of impressive sports cars out on the roads of Atlantic City, Egg Harbor, and Vineland. However, it's the 2019 8 Series and 2019 S-Class that have the power and features you may need for more elevated trips around town.
They both have a great deal to offer, so we're here to help with the decision-making process. Through this BMW 8 Series vs. Mercedes-Benz S-Class comparison, you'll discover the similarities and differences between these automobiles. Then, after you've finished reading, you can contact BMW of Atlantic City to see your favorite vehicle in person!
2019 8 Series vs 2019 S-Class Performance Specs
Whether you opt for the BMW or Mercedes-Benz model, you'll get a vehicle that's powerful and extremely fun to drive.
Take the 2019 8 Series, for instance. It comes with a 4.4L BMW M Performance TwinPower Turbo V8 that delivers 523 horsepower and 553 lb-ft of torque.
It's fast, too, going from 0-60 MPH in just 3.6 seconds. However, it'll still keep you on track, thanks to the Integral Active Steering and fixed-caliper M Sport Brakes that come standard.
Integral Active Steering reduces the vehicle's turning circle when maneuvering and also optimizes stability when cornering at high speeds. Then, the M Sport Brakes will bring your automobile to a smooth stop from any speed.
The 2019 S-Class delivers an impressive performance, as well. Unfortunately, it's not as powerful nor fast. The available 4.0L V8 delivers just 463 horsepower and 516 lb-ft of torque. Plus, it takes 4.5 seconds to go from 0-60 MPH—making it lag slightly behind the BMW vehicle.
Interior Design & Space
With the 8 Series and S-Class being luxury models, you get attractive cabins that are filled with premium materials.
For example, the 2019 BMW 8 Series has Extended Merino Leather upholstery, plus an instrument panel with a Nappa Leather finish—leaving the vehicle with a refined yet modern appearance.
The BMW comes in just a coupe version that seats four. However, it offers plenty of room, especially up front. That's because it has 42.1 inches of front legroom, which will make your taller passengers happy. Then, you and your friend can load up the 14.8-cubic-foot trunk and head to the beach for the day, if you'd like.
Inside the 2019 Mercedes-Benz S-Class is a cabin with leather seating, handcrafted wood trim options, and aluminum accents. However, while it looks nice, it's unfortunately not quite as spacious.
This vehicle is available in both sedan and coupe versions. With the coupe, you get just 41.7 inches of front legroom and 10.4 cubic feet of trunk space. As a result, you may need to compromise on who or what fits inside the Mercedes-Benz.
Technologies in the 8 Series vs S-Class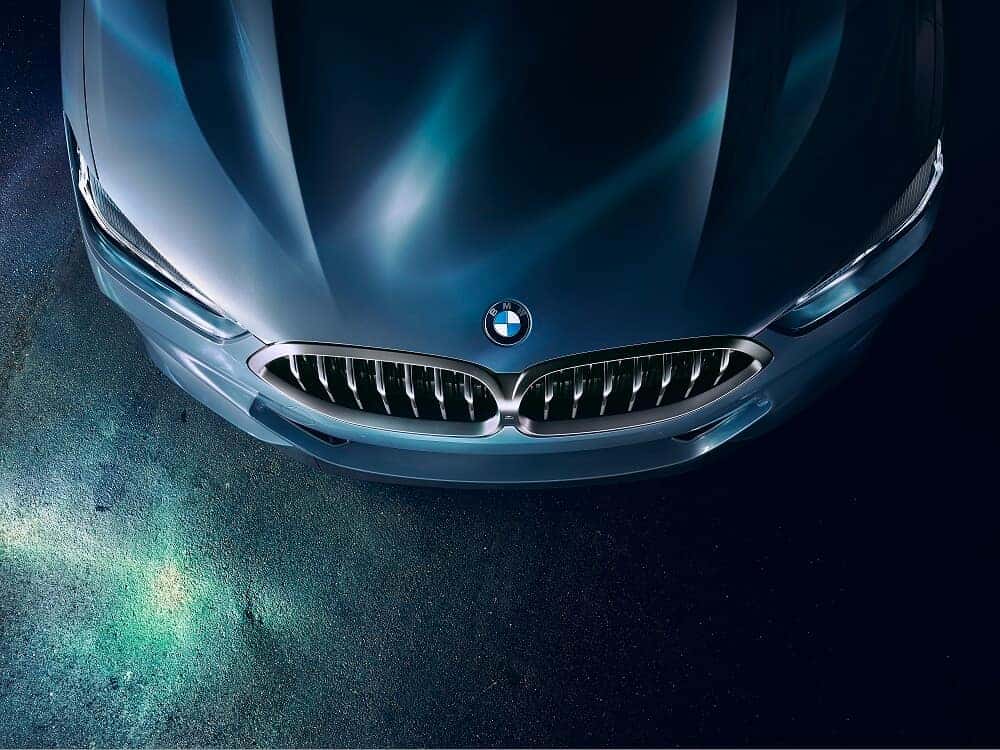 Finally, there are tons of technologies in both models that anyone could appreciate. This includes the iDrive 7.0 and COMAND® infotainment systems found in the BMW and Mercedes-Benz, respectively.
They house all your media options, which can be accessed through a controller knob or voice command. The 8 Series also offers gesture control, which lets you adjust the radio volume, answer phone calls, and more, with the simple wave of your finger.
Unfortunately, the S-Class doesn't offer anything like gesture control.
However, they both come standard with an All Access trial subscription to SiriusXM® Satellite Radio. Whether you prefer listening to music, sports, or the news on your way to work, you can have over 150 stations to choose from—for hours of listening entertainment.
With the BMW, you can enjoy this feature for a full year before deciding if you want to continue paying for it. Unfortunately, you'll need to make that decision faster in the Mercedes-Benz, as it offers this feature for just six months.
2019 BMW 8 Series vs 2019 Mercedes-Benz S-Class: Verdict
When it comes to the 2019 8 Series vs. 2019 S-Class, it's the BMW that comes out on top. That's because it's more powerful and spacious while giving you a longer list of features.
While reading about the 8 Series is great, you'll want to experience it in person to see if it's right for you. Therefore, you can always contact BMW of Atlantic City to test drive the car near Atlantic City, Egg Harbor, and Vineland.
We look forward to meeting you and helping you find your ideal automobile!