BMW Maintenance Schedules

---
Once you experience the luxury of a BMW, you'll want to continue experiencing it for years to come. A good way to do this is by keeping up with the maintenance schedule of your BMW. This is a schedule of basic services that should be performed at regular intervals over the lifespan of your BMW.
These intervals are usually broken down by mileage and include services, like oil changes, tire rotations, or more in-depth inspections. At BMW of Atlantic City, we want to help our drivers in Atlantic City, Egg Harbor, and Vineland, NJ, get the best experience that their BMW has to offer.
To do so, we've provided an overview of the services that your BMW needs at certain intervals.
---
BMW Maintenance System
All new BMW models come equipped with the BMW Maintenance System. This is a reminder system to help ensure that inspections and services are performed at proper intervals. This includes reminders for services, like:
Oil changes
Brake pad replacement
Brake fluid refill
Vehicle check
You can even manually schedule reminders for state-specific inspections, like a vehicle safety inspection or emissions test. Having these reminders is handy, but it's still a good idea to plan your maintenance schedule around regular intervals.
Every 5,000 Miles
You can expect basic services, like:
Changing oil and oil filter
Checks on coolant and brake fluids
Inspection of air filters
Tire rotation
These services should be repeated every 5,000 miles. Some services, like oil changes, should be done a few times a year.
Every 10,000 Miles
At 10,000 miles, you'll bring your BMW in for basic services and safety checks. This includes possibly changing windshield wipers, wiper fluid, and coolant. Brakes, indicator lights, dashboard lights, as well as rubber belts and hoses will be checked to make sure they're operating properly.
These services should be repeated every 10,000 miles.
Every 20,000 Miles
Along with previous services, this appointment also includes replacing the ventilation microfilter, fuel filters, and the battery in your remote control keys. This service should be repeated every 20,000 miles.
Every 30,000 Miles: Inspection 1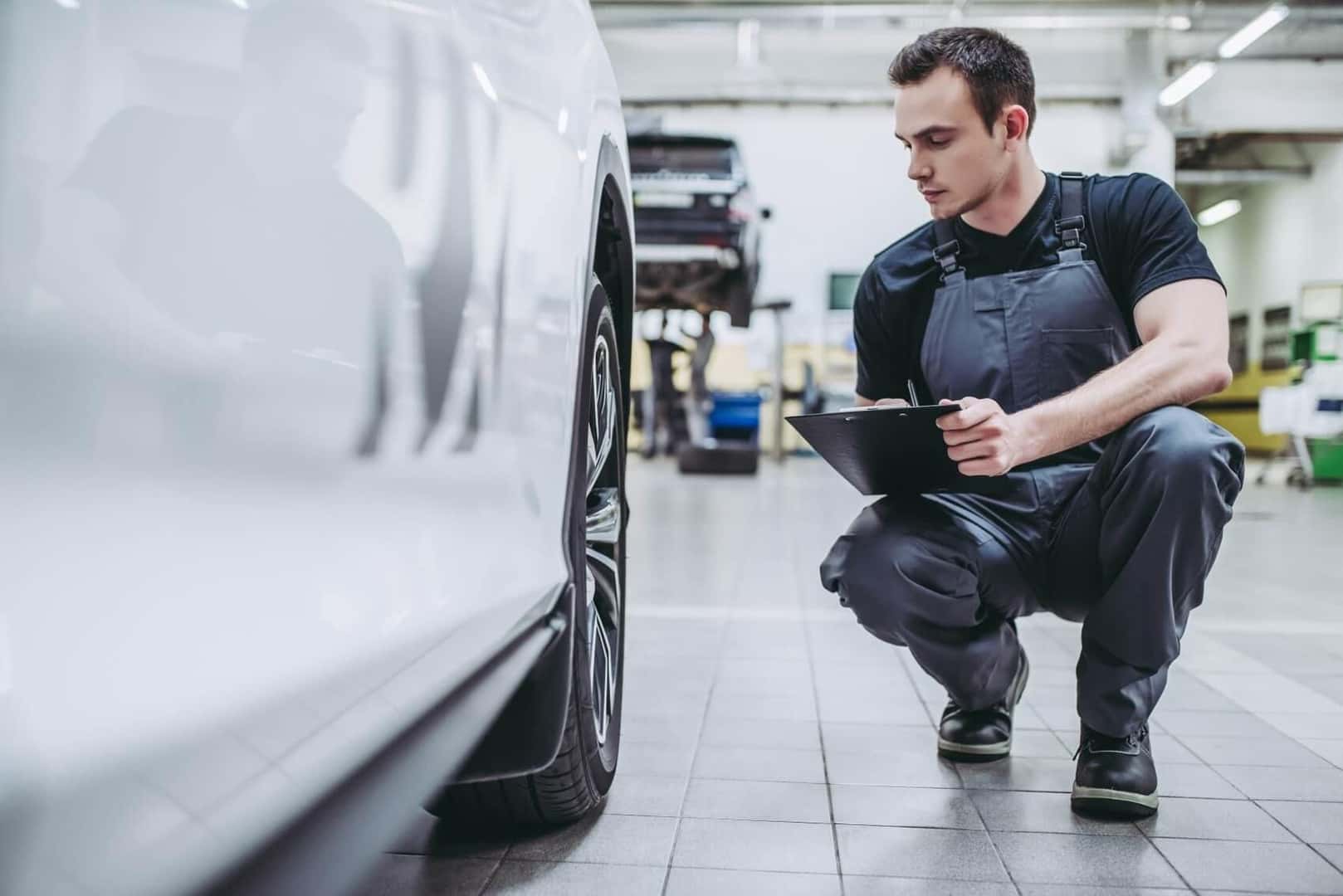 This will be the first major service appointment for your BMW. After the basic 10,000-mile service checks, the inspection will move on to a more intense and thorough inspection of your BMW.
This inspection includes:
Verifying engine temperature
Cleaning brake pad contact points
Checking brake disc surfaces
Tire and wheel checks for wear and even tread
Checking the diagnostic system for any errors
There will also be a check on the exterior and interior to ensure that the lighting, instrument panel, mirrors, and climate control systems are working properly.
Every 60,000 Miles: Inspection 2
At 60,000 miles, the usual 10,000-mile services as well as 30,000-mile inspections are done, along with some new services. These new services include inspecting the parking brake lining, examining the flexible boots for leaks, and looking for rust.
Around this time, you should also check your BMW's battery. Most batteries are meant to last four to five years, so it may be time for a replacement. You should also have your brake pads and rotors inspected and replaced if necessary.
If your BMW has an automatic transmission, you should have your transmission fluid replaced. This is also around when you should expect to replace your spark plugs and have your coolant flushed and replaced.
Every 90,000 Miles
At 90,000 miles, you should have your power steering fluid flushed and replaced. You should also have your timing belt and hoses inspected and possibly replaced.
---
Schedule Your Next Service Appointment with Us!
This is the basic outline of the BMW maintenance schedule. However, it's important to note that no two drivers are alike. Depending on driving style and environment, certain services may be needed sooner or later than the recommended intervals.
Always be sure to schedule regular maintenance every 5,000 miles to 10,000 miles and keep an eye on the BMW Maintenance System reminders. If you need service in Atlantic City, Egg Harbor, or Vineland, NJ, our team at BMW of Atlantic City is ready to help!
---