BMW vs Audi

If you're interested in a luxury German vehicle, BMW and Audi have great options to choose from. Every model in their collections is stylish, high performing, and full of impressive features. Thus, you'll want to learn more about these manufacturers, as doing so will enable you to properly decide which type of vehicle will work best for your lifestyle around Atlantic City, Egg Harbor, and Vineland.
To help make that choice easier, the team at BMW of Atlantic City has created this BMW vs. Audi comparison. Read through the side-by-side assessment below, and feel free to contact us if you have any questions!
Vehicle Selection & Warranties
BMW and Audi both offer large selections of automobiles that come with impressive warranties for your peace of mind. For example, BMW offers 18 vehicles, including the:

With several of the Series models, you'll find a number of different body styles. Whether you want a small 2-door model, a 4-door sedan, or a large SUV, you can find it in this collection.
Additionally, if you want a new or certified pre-owned (CPO) BMW, you'll get a nice warranty to keep you covered—new vehicles come with a 4-Year/50,000-Mile Limited Warranty! With a BMW CPO, you can get up to six years of coverage with unlimited miles.
Audi has a nice selection of automobiles too, all in a number of different body styles. Plus, like BMW, a new Audi comes with a 4-Year/50,000-Mile Limited Warranty. However, you can only get up to five years of coverage with a certified pre-owned model.
BMW vs Audi Reliability

While both manufacturers produce highly reliable vehicles, BMW comes out on top in quality. Every year, J.D. Power presents awards in a variety of categories like dependability and performance. These are given to select models, and BMW had the special honor of receiving five distinct awards.
BMW received three awards for quality and two awards for performance, including for models like the:
Unfortunately, Audi only received two awards for the A3 and Q3.
Powerful Performance


BMW and Audi models are designed with performance in mind. We'll delve into this fact more by comparing the BMW Z4 Roadster and the Audi TT Roadster.
The Z4 Roadster has a near-perfect 50/50 weight distribution and efficient aerodynamics, making it a thrill to drive. It also boasts agile handling thanks to an aluminum double-pivot spring and strut-type front suspension as well as a Central Link rear suspension.
This vehicle comes with a 2.0L TwinPower Turbo 4-cylinder engine that delivers 255 horsepower and 295 lb-ft of torque. Plus, adding to that power is speed: The Z4 Roadster can go from 0–60 MPH in just 5.2 seconds.
The TT Roadster is also a fun car to drive. It comes with a MacPherson strut front suspension and a 4-link rear suspension, both of which contribute to the vehicle's balance and power-to-weight ratio. Unfortunately, it's not quite as powerful or as fast as the BMW model. The 2.0L 4-cylinder engine inside the TT produces 228 horsepower and 258 lb-ft of torque, and it takes 5.5 seconds to go from 0–60 MPH.
Test Drive a BMW Model Today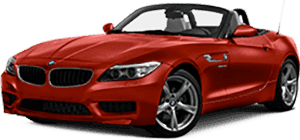 While Audi's lineup is certainly noteworthy, BMW has some of the most dependable and performance-driven vehicles out there. If you're not sure which BMW model you'd prefer for your drives around Atlantic City, Egg Harbor, and Vineland, we can help! Contact BMW of Atlantic City for a test drive, and we'll have you driving home in your dream car before you know it.