If you're searching for an oil change near you, look no further than our service center at BMW of Atlantic City. Whether you're in Atlantic City, Egg Harbor, or Vineland, we're your one-stop-shop for any and all of your maintenance issues.
Keep reading to learn about the importance of regular oil changes and when they should be completed. Then, learn about our services and how you can get this type of maintenance completed at our dealership today.
How Long Does an Oil Change Take?
How Many Miles Between Oil Changes
How Often Should You Change Your Oil?
Signs You Need Your Oil Changed
Why Are Oil Changes So Important?
Engines are made up of lots of different moving parts that need to be kept cool and lubricated. Otherwise, the engine could overheat and break down, which would lead to a necessary (and possibly costly) replacement.
Yet getting regular oil changes does more than just maintain engine lubrication and cool engine parts. It'll also remove particles and sludge. If left untreated, that dirt and debris could cause corrosion and decrease the life of the engine. By getting oil and filter changes when needed, those particles and sludge can be removed and help keep your engine in top-quality condition.
Furthermore, oil changes can help improve gas mileage. An engine that isn't properly lubricated will need to work twice as hard as normal. That extra effort can lead to increased fuel consumption, which means you'll need to get gas more often than usual.
By getting your car's oil changed on a regular basis, gas mileage can be improved over time. In fact, you could save on an entire gallon of gas each year just by getting this maintenance work completed.
When Do I Need an Oil Change?
The answer to this question really depends on three things:
What type of vehicle you have
Whether it takes conventional or synthetic oil
What your driving habits are like
It's generally recommended to get an oil and filter change every 5,000 to 7,500 miles. If you go through more severe driving conditions (like frequent stop-and-go traffic), then you may want to get it done every 3,000 miles.
On the flip side, if your automobile uses synthetic oil, you could go 10,000 or even 15,000 miles before needing an oil change. Regardless, you'll want to refer to your owner's manual for a more definitive service interval.
Signs You Need an Oil Change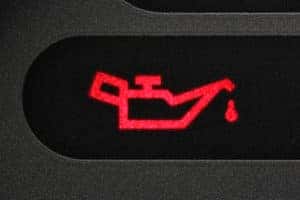 We all get busy, so it's normal to not remember the last time you had an oil change. However, your vehicle was designed to "tell" you when an oil change is needed. It does this through a variety of warning signs, such as:
Loud engine noises: When the engine's components aren't properly lubricated, you'll hear metal-on-metal contact. This comes in the form of loud knocking sounds from the engine.
Burnt oil smell: If you start to smell oil in the cabin, then there's likely a leak somewhere. Oil could be dripping onto hot engine parts, which would cause you to notice that burnt odor.
Exhaust smoke: This could be another sign of an oil leak. If you spot blue or gray smoke coming out of the exhaust, then you'll want to check for a leak somewhere.
Poor fuel economy: Over time, dirt and sludge could build up in an engine, causing it to work twice as hard as before. As a result, more fuel will be used. So, if you notice that you're running low on gas quicker than normal, it could mean that an oil change is needed.
Warning light appears on the dash: Finally, one of the most obvious signs that an oil change is needed is if a light appears on the dashboard. It could be an oil change warning light or a check engine light. Either way, if a symbol is illuminated on the dash, then you'll want to have your BMW checked out as soon as possible.
Our Service Center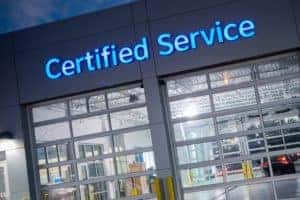 With a convenient location, our service center makes it easy to keep up with routine oil changes when you're searching for an "oil change near me"
We provide service that's quick, efficient, and trusted, so that you can rest assured your vehicle will be up and running like new in no time. No matter what type of vehicle you have, our team will proudly change its oil.
With a staff of highly trained and experienced auto technicians, we know just what your BMW needs—whether that's choosing the right oil or checking other fluids. You can count on our thorough services to keep your vehicle running well for years to come.
Convenience While You Wait
Whether you decide to wait at our dealership for your oil change to be completed, or want to come back to pick it up, we have plenty of options to make your wait time even easier.
For example, you can take advantage of our shuttle service to drop you off at home, then be picked up again once your car is good to go. Otherwise, you're welcome to relax in our waiting area with complimentary snacks, water, soft drinks, and HDTVs to keep you entertained.
We'll get to work on your BMW right away, and we'll let you know the moment service has been completed.
More Than Just Oil Changes
As we've mentioned, we can take on more than just oil changes for your BMW at our service center. From tire rotations to part replacements, we've got you covered. We even have a parts center for our customers who like to take on their auto projects at home.
Plus, for those times you find yourself in an unforeseen accident, we have a collision center for that. From towing services to lifetime warranties, our advanced body shop will leave you with great peace of mind.
Schedule an Oil Change near You Today
If you live near Atlantic City, Egg Harbor, or Vineland, then schedule service at BMW of Atlantic City. Get your oil change done here and see what sets our service center apart from the rest!