What Is BMW xDrive?
If you're shopping for a new vehicle in Atlantic City, Egg Harbor, and Vineland, NJ, you may have come across the term "xDrive" attached to many BMW models. However, what is BMW xDrive? Learn everything you need to know about this proprietary drivetrain, including its benefits and what BMW models offer it, in this guide from BMW of Atlantic City.
What is the BMW xDrive System?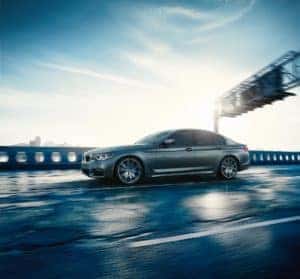 xDrive is the proprietary intelligent all-wheel drive system available in many BMW models—most notably, the X series of sport activity vehicles. This system uses sensors to constantly monitor road conditions, adjusting to improve traction and handling as needed.
Under regular driving conditions, xDrive provides 60% of your vehicle's torque to the rear wheels and 40% to the front. This full-time all-wheel drive system balances the sporty handling of a rear-wheel drive vehicle with the increased traction of an all-wheel drivetrain.
Many other manufacturers offer intelligent all-wheel drive systems that only kick in once the vehicle starts to slip, working to regain control and correct the vehicle's path. However, with xDrive, all four wheels are always getting power. This means you're less likely to lose traction in the first place.
How Does xDrive Work?
While xDrive usually provides a 40/60 split of power to the front and rear axles, it can change the ratio based on what's best for current road conditions, even sending 100% of the power to one axle if needed. It also works in partnership with Dynamic Stability Control to apply brakes to individual wheels, helping you stay on the road.
xDrive helps improve your car's handling in two main ways. Firstly, it can help improve traction on slippery surfaces by sending power to whichever wheels have the most grip. If only one wheel has traction, the vehicle can gently apply brakes to its partner to prevent wheel spin.
Additionally, this intelligent system can also help correct understeering and oversteering when you're going around tight corners. It does this by changing the amount of power it sends to each axle, depending on the situation. At the same time, Dynamic Stability Control applies brakes to certain wheels to further assist you.
BMW xDrive Models
xDrive intelligent all-wheel drive comes standard on all sport activity vehicles in the BMW lineup. Whether you want to get behind the wheel of an X1, X2, X3, X4, X5, X6, or X7, you can rest assured this system will help you stay in control throughout New Jersey's slippery winter and wet spring.
BMW also offers xDrive as an optional feature on many of its sedans, hatchbacks, coupes, and convertibles.
Try BMW xDrive Today
To find out which BMW models offer xDrive and try this innovative system for yourself, contact BMW of Atlantic City to learn more and schedule a test drive. Our knowledgeable staff is happy to help drivers in Atlantic City, Egg Harbor, and Vineland learn more about BMW xDrive and find the model that's best for them.