Best Cocktails near Atlantic City NJ
From happy hour to a night on the town, there are so many ways to unwind with a great cocktail. If you want to try some of the best in the Atlantic City area, here are three of our favorite places to get a drink.
Angelo's Fairmount Tavern | Facebook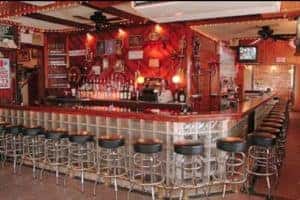 Angelo's Fairmount Tavern has been serving up authentic Italian dishes since 1935 and has been family-owned for three generations. Over the years, it's grown into a favorite neighborhood spot for a drink and a great meal, whether you're having a wedding shower, hosting a banquet, or grabbing a drink with friends.
They have an extensive wine list along with a full bar that serves up signature cocktails as well as the usual favorites. If you're hungry, we recommend the Penne A la Vodka or the Cheese Tortellini with Alfredo Sauce.
The BierGarten | Facebook
The BierGarten serves craft beer and cocktails at their open-air beer garden along the Atlantic City boardwalk. They were built in the spirit of fun, family traditions, and good times and fit right in with the laid-back vibes of the Jersey shore.
They have beers on draft as well as bottles from local favorites, like Budweiser and Hoboken Bodi Blonde, which is brewed with organic flaked coconut. For cocktails, we recommend trying one of their mules, like the classic Moscow Mule or the Kentucky Bourbon Mule made with Jim Beam.
If you love to be the star of the show, you'll fit right in at Planet Rose, where you can get up on stage and sing your heart out. This high-energy karaoke lounge creates a relaxed atmosphere with a punk rock vibe where the party never stops.
They have a full bar where you can order your favorite cocktail as you sit and listen to the musical stylings of your friends and co-workers. Join them at the mic or hang out in their lounge area and enjoy the show!
Place Your Order
Whatever kind of atmosphere you prefer to enjoy your cocktails in, you'll find a match in Atlantic City. Try all three of the places we mentioned here and find one you like. Then, step up to the bar and place your order!