Don't Be Crabby: Try These Seafood Restaurants in Atlantic City

After a long day in the summer heat, there's nothing truly as refreshing as the briny and savory taste of fresh seafood. Whether it's an ice-cold raw oyster, a pile of peel-and-eat fresh shrimp, or a hot yet refreshing seafood gumbo, the intricacies of the flavors will be a gift to your taste buds.
For the most delectable fresh eats from the best seafood restaurants in Atlantic City, NJ, check out these top spots!
An Institution – Dock's Oyster House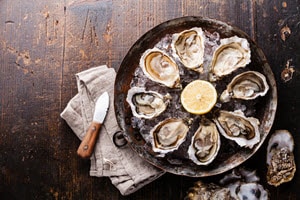 Believing the area was missing something, Henry Dougherty-or "Dock" as he's more affectionately known-opened his restaurant in Atlantic City without a liquor license. Having carried on through World Wars, the Great Depression, and four generations, Dock's Oyster House is an Atlantic City institution.
Order several different items from their extensive raw bar, try their delicious Oyster Stew, or experience their decadent crab cakes. Whatever your taste is, you're sure to find something to please your palate. Check out their Facebook page to find out what's happening from day to day.
The Hybrid – Harry's Oyster Bar
Remember the story about Dock? Well, great seafood joints must run in the family as this one is owned by Dock's grandson Frank and his wife Maureen. They opened Harry's Oyster Bar in 2011 and have a gigantic seafood display and a massive marble raw bar.
With a daily changing menu to accommodate for fresh fish and shellfish options, this restaurant is a hybrid of a raw bar, a sports bar, and a fine dining establishment. For the house specials, you're going to want to try Harry's Clam Bake or the Lobster Roll. For daily specials or entertainment news, check out their Facebook page!
Fine Dining – Knife & Fork Inn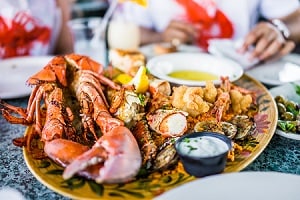 Originally a bar that functioned even during Prohibition, the Knife & Fork Inn location has a storied history. It started out as a men's club, where the famed Enoch "Nucky" Johnson was a regular. After several changes in ownership, the Knife & Fork ended up in the hands of none other than Frank Dougherty, a member of Dock's family.
Embracing the look of its Prohibition days and claiming "Nucky ate here", the Knife & Fork has a stylish and elegant dining room where delicious items, such as Seafood Risotto and Lobster Thermidor, accompany an impressive wine list. See what they have to offer on Facebook!
Try Them All!
Each of the top three spots for scrumptious seafood in Atlantic City, NJ, has something different to offer, and you'd certainly be missing out if you didn't try all three!