Top Pizza Places near Me Atlantic City NJ

Whether you like red, white, plain or covered in toppings, pizza can easily appeal to the masses. That's because it's a comfort food that fulfills your carb cravings, and comes in many different varieties.
But, what are the best places to get pizza in the area? We'll help answer that question with our guide to the top pizza places near Atlantic City, NJ.
A Traditional Family Recipe That Still Lives On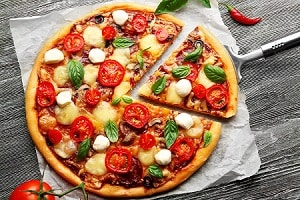 Jonuzi's Pizza, Bar & Grill has been around for over 25 years using family recipes for their delicious food. Not only does the food taste amazing, but the prices are reasonable considering how much food you get. In fact, one slice here is equal to two big slices anywhere else!
There are, of course, the classic red and white pies. However, you'll want to get one of their gourmet pizzas to truly experience what Jonuzi's has to offer. For example, if you're a big meat lover, then you'll love the Butcher's Special. This pizza is topped with pepperoni, sausage, meatballs, bacon, ham, and extra cheese.
For more information, check out Jonuzi's Pizza, Bar & Grill on Facebook.
Trendy Late-Night Pizzeria
For some tasty pie in a hip environment, stop by Tony's Baltimore Grill. Here, they're serving classic pies and Italian comfort eats in an old-school interior with retro décor and a throwback jukebox. This is the place to go when you want a tasty late-night meal with friends. Don't forget to be on the lookout for a possible celebrity sighting!
There are tons of tasty specialty pies to choose from, including the Clams Casino. This pie consists of a white clam sauce, bacon, onions, green peppers, and garlic. There's also the Spaghetti Pizza, which has spaghetti sauce, pasta, and your choice of meatballs, sausage, or anchovies.
You can learn more on Tony's Baltimore Grill Facebook page.
Pizza, Subs & Bad-Ass Grub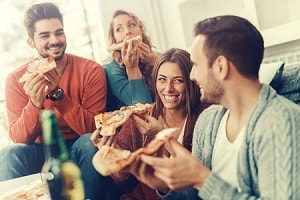 If you're looking for some one-of-a-kind pizza, then you've got to check out Tony Boloney's. What started as an Atlantic City staple has since grown to another location in Hoboken, plus a Mustache Mobile serving grub on the go.
While you can get regular pizza anywhere, you can only get the unique Taco Pizza here. Not for the faint of heart, the pizza begins with a secret 120-year-old 6-hour Jewish brisket recipe turned carne asada chipotle sauce. Then, there's hand-pulled queso Oaxaca Mexican string cheese and a ton of tacos (we're talking 18-24). Once that's piled on, the pizza is topped with guac, pickled jalapeno crema, and esquites.
Check out the Taco Pizza for yourself on the Tony Boloney's Facebook page.
Get a Tasty Slice of Pie Today
If you're wanting some classic or unique pizza, don't wait. Gather your friends and family and visit any of these pizza places near you in Atlantic City, NJ, today!