Surf Lessons near Atlantic City NJ

There's nothing quite as exhilarating as catching a gnarly wave with your friends, but, there's nothing as disappointing as missing that gnarly wave, especially when you're the only one who doesn't know how to surf. Luckily, some great surf lessons near Atlantic City, NJ, can help you. Read our guide and contact them today to schedule your first lesson!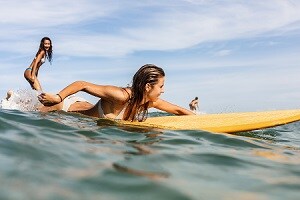 Founded by professional surfer Dean "The Jersey Devil" Randazzo and his brother Joe, this surf shop started as a part of a post Hurricane Sandy revitalization project. Located right on the boardwalk, this shop is a first on the Atlantic City Boardwalk.
In addition to surfing lessons and rentals, Jersey Devil Surf Shop offers much more…full paddle boarding lessons and rentals, a pro shop full of custom lids and tees, etc. Plus, if you're the type of wave-catcher who likes to be in the know, you can follow them today on Facebook, Twitter, or Instagram. Surf on…
At Primal Surf, the instructors are some of the most mature, intelligent surfers on the Jersey Shore. They can explain all the ins and outs of the ocean so that you'll be up on your feet on the board in no time. If the sun is getting in your eyes, make sure to stop by their shop – it's filled with major name brand sunglasses.
Owned by the Laielli family since 2003, it's clear that this store and its owners truly care about the local community. Located in the middle of a wildlife refuge, they make sure their shelves are stocked year-round.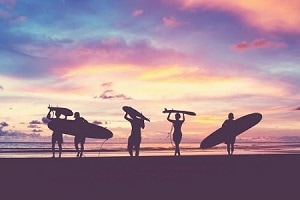 Like a true surf spot, Stacey's Surf & Paddle is open from 8:00 am to dusk…they keep going until the sun quits. Once you've experienced all of their surf camps and paddle boarding lessons, you can take things to the next level. They offer a unique H20MMMMM SUP Yoga class that, "combines traditional yoga poses while using your paddle board as your mat while floating on the water." The next level of Zen.
That kind of community influence should come as no surprise when you realize that owner Stacey Marchel was born and raised at the Jersey shore. Inspired by the physical challenges and spiritual happiness that surfing provides, Stacey seeks to share that feeling with the community she loves.
Hang Ten with Surfing Lessons near Atlantic City
When you're ready to get in the ocean and learn to conquer your first wave, then contact these three local shops for surfing lessons near Atlantic City. Don't wait, call them today!