Watch College Basketball's Biggest Games near Atlantic City NJ

There are many sports to watch throughout the year. There's football in the fall, hockey in the winter, and baseball in the summer. However, there's a certain point in spring that's extra special for sports fans when college basketball teams are working hard to win a championship.
If you want to cheer on your favorite team, why not do it at the Jersey Shore? We'll tell you where to watch college basketball's biggest event near Atlantic City, NJ, so you know where to get in on the action.
The Cellar 32: More Than Just a Liquor Store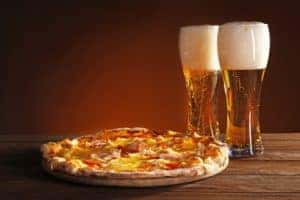 The Cellar 32 is a top spot for quality spirits, fine wines, and beer. However, it's more than just a liquor store. It's also a bar and restaurant, where you can enjoy some delicious food and watch a game.
Not only do they have TV screens to catch a sports game, but they also have various specials throughout the year. For example, a college basketball special could be Half Price Pizzas and $2 Bud Lite Drafts.
If you'd prefer something else to eat, then check out their various burgers, sandwiches, and salads. They also have tasty sides, such as sweet potato fries, which are tossed with cinnamon sugar and served with a sweet brown sugar dipping sauce.
See what else they have to eat and drink on The Cellar 32 Facebook page.
The Cove: Providing a Beachy & Family Atmosphere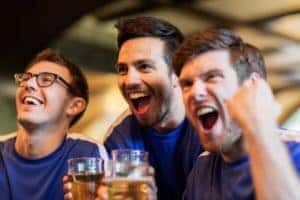 If you love the beach, seafood, and having a good time, then you'll love visiting The Cove. There are three venues in this location to check out: The Key West Room, The Front Room, and The Cove Bar & Grill.
The Key West Room is where you'll have a more intimate dining experience. If you want to host a private event, you can do so in The Front Room. Finally, there's the Cove Bar & Grill, which provides a beachy environment and is great for Happy Hour or to watch some basketball.
There are 14 TVs to catch a game along with 26 beers on tap and a creative menu. For an appetizer, we recommend getting the Habanero Mango Shrimp, where six skewered and grilled shrimp are cooked with olive oil and a habanero mango sauce.
Discover more menu options on The Cove Facebook page.
A Dam Good Sports Bar: Lots of Ways to Watch Some College Basketball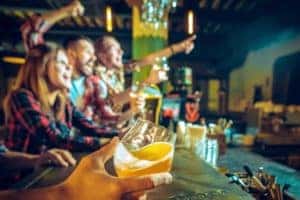 As the name implies, A Dam Good Sports Bar is where you go for a fun night out. Located in the Tropicana Hotel & Casino, this bar and restaurant has tasty food, great drinks, and plenty of ways to watch your favorite sports teams.
There are 26 TVs throughout the place. While that's impressive, they also have four 110-inch mega screens. If you think they couldn't keep going, think again. They then have a 144-inch mega screen for the biggest sporting events.
Plus, between the various packages they offer, like the NBA League Pass, if there's a particular game you're looking for, they'll probably have it on.
Check out A Dam Good Sports Bar on Facebook to see exactly what kind of fun you could have here.
Cheer on Your Favorite Basketball Team
It'll be March before you know it. So, if you want to get in on all the madness, then visit these sports bars near Atlantic City, NJ, for some great college basketball viewing!